Copyright © 2014, P. Hansen Construction Ltd., all rights reserved.
P. HANSEN CONSTRUCTION LTD.
3843E-44 Avenue
Camrose, AB
T4V 3T1
Call 780-672-2497
or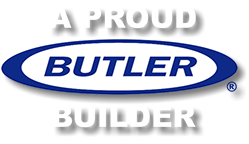 P. HANSEN CONSTRUCTION LTD.
Welcome
Based in Camrose, Alberta, P. Hansen Construction Ltd. is an authorized Butler Manufacturing builder specializing in commercial and municipal steel building construction.
We are here to help make your visions come to life. At P. Hansen Construction,all work is done in good faith, and based on providing the owner with the best value for their investment.
All of the work that we do is based on current engineering principles, codes and regulated construction practices
What We Do
We are building contractors that do a multitude of different projects, and specialize in:
Project Management Contracts
Design Build Projects
Pre-Engineered Metal Buildings
General Contracting for Commercial and Industrial Clients
Our scope of work on projects varies as we tailor to suit our customer's needs.
We are also pleased to be able to offer Butler Manufacturing™ products as they have maintained a reputation for quality in the building industry. Using only the best materials and innovative procedures, customers are provided with buildings that will look as great as they perform for many years to come.
We are located in Camrose, Alberta and do work through-out central Alberta and surrounding areas.